Please join us for the musical birthday celebration for Tadeusz Kosciuszko at the Kosciuszko Foundation in New York! The event will feature a presentation by the Foundation's Chairman, Alex Storozynski, author of "The Peasant Prince. Thaddeus Kosciuszko and the Age of Revolution," and director of the documentary film "Kosciuszko: A Man ahead of his Time" and a recital by duo Karolina Mikolajczyk, violin, and Iwo Jedynecki, accordion followed by a wine reception.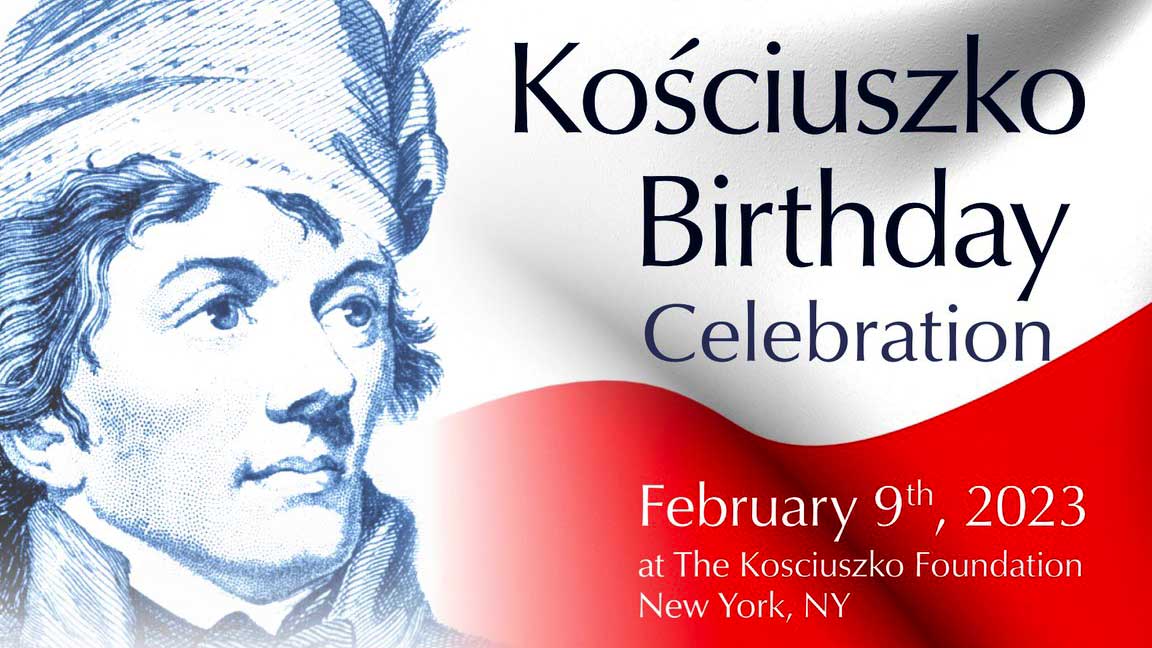 Tadeusz Kosciuszko (1746 – 1817) is one of the most important figures of the modern world, and a national hero in Poland and the United States. He was a Polish general, military engineer, and freedom fighter who fought in the American Revolutionary War and led a valiant but ultimately unsuccessful uprising against Poland's partition by Russia and other foreign powers. A lifelong champion of the common man and woman, he was ahead of his time in advocating tolerance and standing up for the rights of slaves, Native Americans, women, serfs, and Jews.
About the performers: Duo Karolina Mikolajczyk & Iwo Jedynecki is one of the most vibrant and innovative chamber ensembles of the young generation. Winners of Grand Prix and First Prizes at international music competitions (France, Italy, Austria, Croatia, Poland). They performed at Carnegie Hall, Guangzhou Opera House and Warsaw Philharmonic and other notable music venues in France, Germany, Swietzerland, Spain, Portugal, Italy, Georgia, Cuba, and other countries.
PROGRAM:
1. F.Chopin - Nocturne op. 9 no 2
2. G.Bacewicz - Oberek
3. W.A.Mozart - Sonata in G major K 301
I. Allegro con Spitiro
II. Allegro
4. I.J.Paderewski - Melody op. 16 no 2
5. B.Bartok - Romanian Folk Dances
6. M.Blazewicz - Sonata "Night full of Sins" (mvt 3)
7. W. Kostrzewa - The Hollywood Fantasy (mvt 1)
SPONSORED ARTICLE
For the most up-to-date information, please contact the company directly.
The photos contained in the article serve only as an illustration of the article.
Polish-American Organizations
15 East 65th Street
New York
, NY
tel:
Click phone# to call
and tell them you found their ad in Polish Pages
ARTICLES OF THIS COMPANY
Find an article
FIND A COMPANY
Add your business to our directory
Do you have a business?
Register an account
Add info for easy finding
Get new customers
ADD A COMPANY