December is upon us, allowing us to reflect on the passing scholarship and grants awarding year. For decades, the Kosciuszko Foundation has helped Polish Americans to pursue their education comfortably. When students could not afford college or graduate school, we assisted them financially. When artists needed a place to engage in Polish culture, the KF was there. When Polonia needed someone to speak on important issues, the KF stepped up to the challenge. Now we need you.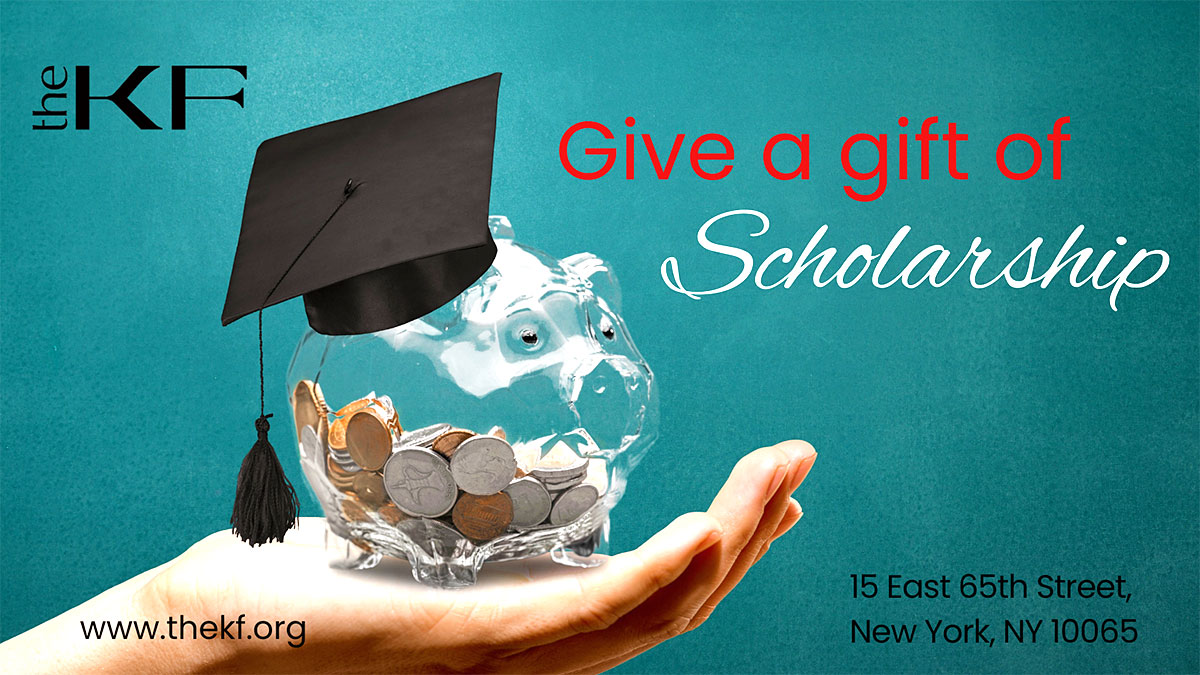 Thanks to your incredible support, we were able to help many in their educational paths in 2022.
We are delighted to share that this year we awarded the following:
nearly $450K in scholarships and grants for Polish Americans to complete their graduate, undergraduate, and Ph.D. degrees
over $ 700K for exchange students to the U.S. and Poland
$100K for The Teaching English in Poland Program - 430 children, with 125 of them from Ukraine and 65 Americans joined the program in 6 camps last summer
$80K for Polish studies programs in the U.S.
$50K in awards for talented young scientists (The Witold Lipski Award, Prof. Frank Wilczek Award, Prof. Stefan Pienkowski Award)
$20K for summer courses in the Polish language at Jagellonian University in Cracow
This year we also awarded students from Ukraine in the amount of:
$75K for training courses for teachers of Polish as a foreign language with a component of MHPSS (nearly 1000 teachers have completed the courses run by the SOK Foundation)
over $50K for Ukrainian students in Poland to cover their educational needs
40 Ukrainian scholars with grants of $2,500 each
25 Ukrainian artists with $1,250 each
$25K for Flying University - free on-line university courses in the Humanities and Social Sciences offered to Ukrainian students
2022 was an incredible year for us, and you can see those results in the great number of exceptional and deserving students, scholars, and artists we have helped throughout the year. We appeal to you today for donations to the Kosciuszko Foundation Scholarship Fund. Please help us to make the final days of 2022 even more prosperous.
We count on your support greatly! Make sure to please future generations of talented Polish students, scholars, and artists. Your participation in the KF Fundraising is a vote of confidence in our mission.
If you are a KF scholarship recipient and recognize the impact the Foundation had on your life, donating is the best way to"pay it forward". No donation is too small (or too big!).
Please note that donations made by December 31 are tax deductible for 2022. Indeed, there has never been a better time to offer support!
Here are a few easy ways of giving:
A few easy ways of giving:
Go online to www.thekf.org, click on "Donate" and follow the simple instructions
Send a check or money order, payable to "The Kosciuszko Foundation", and drop it off, or mail to The Kosciuszko Foundation, 15 East 65th Str., New York, NY 10065
Call Kinga in the Membership Office: 212-734-2130, and she'll assist you to make your donation experience as simple as possible.
Best wishes!
SPONSORED ARTICLE
For the most up-to-date information, please contact the company directly.
The photos contained in the article serve only as an illustration of the article.
Polish-American Organizations
15 East 65th Street
New York
, NY
tel:
Click phone# to call
and tell them you found their ad in Polish Pages
ARTICLES OF THIS COMPANY
Find an article
FIND A COMPANY
Add your business to our directory
Do you have a business?
Register an account
Add info for easy finding
Get new customers
ADD A COMPANY