As the year 2022 draws to a close, I can't help but reflect on the remarkable achievements, the demonstrated strength and support, as well as encouragement from The Kosciuszko Foundation's donors and partners worldwide. I am writing to express my very best wishes and sincere thanks to each and every one of you as we reflect on the challenges of 2022 and shift our focus to the upcoming year.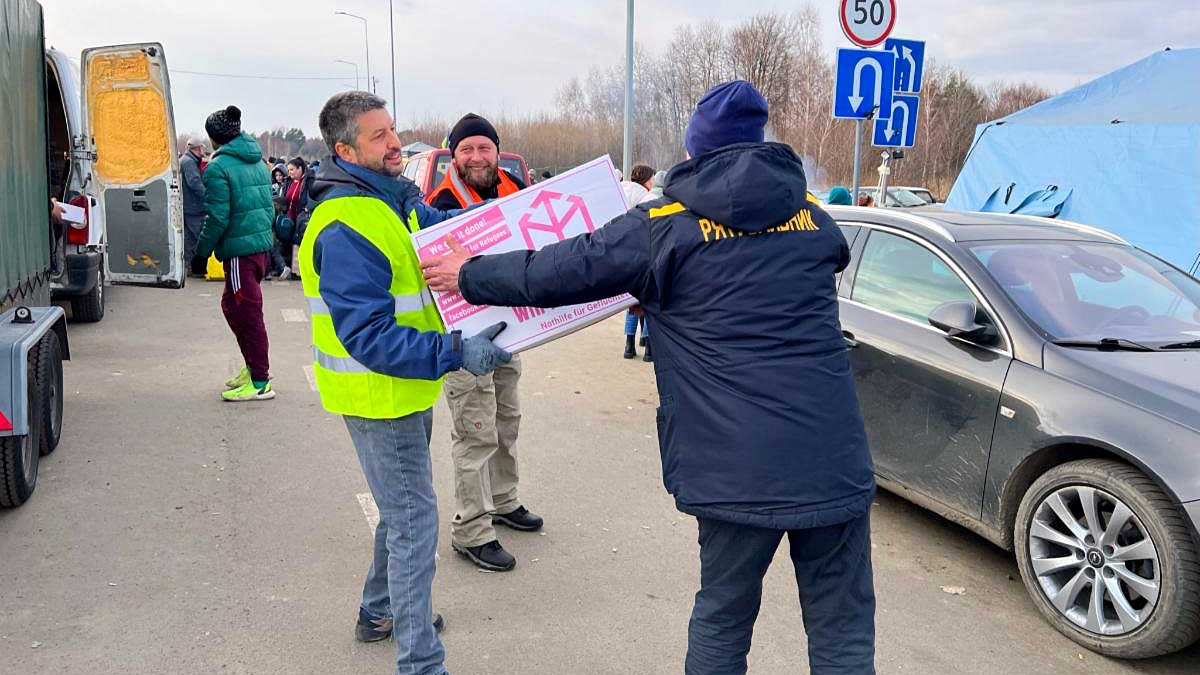 In February 2022, our agenda expanded
We made a clear decision to support Ukraine as we watched Russia once again invade Eastern Europe. We created a dedicated fund to accept donations to aid Ukrainian women and children fleeing Russian bombs and seeking sanctuary in Poland. As I visited the border crossing points in those first days of the war, with endless lines of refugees, I learned of people who died from hypothermia while waiting to cross. We initiated our help, first with food, medicine, and shelter, including along the highways, then with books and educational materials as refugees began to assimilate into Polish schools. We soon realized that the need, caused by the blanket destruction of Ukraine, is much greater, and assistance will be necessary not only for days, weeks, and months but maybe for years to come.
2022 has tested us in ways few of us could have imagined
We were and are still dealing with Covid, the war in Ukraine, a volatile economic climate, and safety and security in our communities and families. It has been a complex environment, but we have continued giving on your behalf. As we say at the KF, "there is no force that could stop Kosciuszko." Indeed, challenges only serve to motivate us to give even more and solve difficult situations. Further, let me assure you, each day, we remember that there wouldn't be us if not for your generous contributions.
Scholarships and Educational Grants to Poles and Polish Americans
As always, our primary focus is to provide scholarships and educational grants to Poles and Polish Americans who conduct research at some of America's most prestigious universities as well as students who are studying at U.S. and Polish colleges and universities. Over the years, KF grants have changed the lives of thousands of Poles and Polish Americans. We have continued to expand our online offerings, and they remain available on the KF Channel for viewing by individuals throughout the world. Music and science as well as history, these are the subjects of our webinars, which have introduced many non-Polish Americans to our Polish heritage.
Today, more than ever, we need to embrace the KF Community. Hence, I would like to address an appeal; please designate the Kosciuszko Foundation for your end-of-year tax-deductible donation, and be part of a distinguished philanthropic group. Your contributions cover many expenses associated with the foundation's mission. For more information, please visit our website www.thekf.org or call our office to discuss your questions. We are always here, eager, and happy to assist you.
As we look at the highlights of the past year, we have many reasons for enormous pride in our accomplishments and look forward with enthusiasm to serving our community in the upcoming year.
Merry Christmas, Happy Holidays & a Prosperous New Year. Wesołych Świąt!
Marek Skulimowski, President & Executive Director
SPONSORED ARTICLE
For the most up-to-date information, please contact the company directly.
The photos contained in the article serve only as an illustration of the article.
Polish-American Organizations
15 East 65th Street
New York
, NY
tel:
Click phone# to call
and tell them you found their ad in Polish Pages
ARTICLES OF THIS COMPANY
Find an article
FIND A COMPANY
Add your business to our directory
Do you have a business?
Register an account
Add info for easy finding
Get new customers
ADD A COMPANY