The Kosciuszko Foundation is currently accepting applications for Tomaszkiewicz-Florio, and Wisconsin Study Polish Scholarships from students who wish to study the Polish language with Jagiellonian University professors and teachers. 4-week and two 3-week classes are available. Students can enroll in Polish grammar, culture, and society. A cultural program is available on weekends.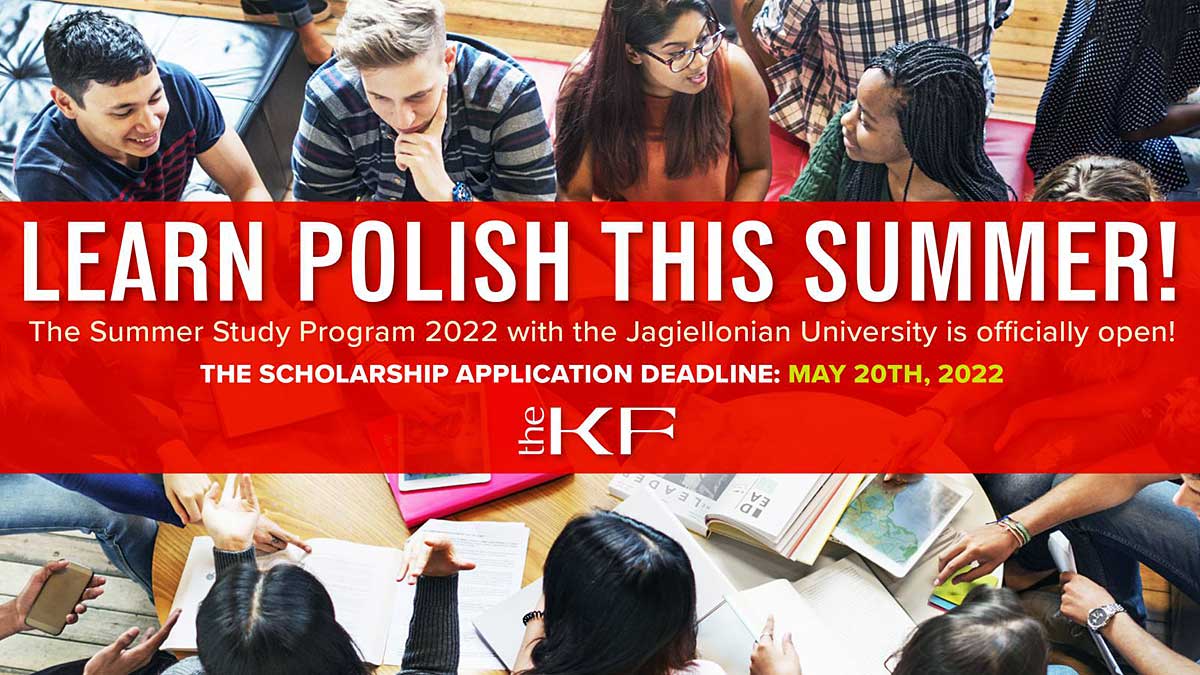 The 4- and 3-week programs begin on July 4th. The 3-week program begins on July 25th.
ELIGIBILITY:
Scholarships are open to Polish American undergraduate students. High school graduates who will be 18 by the first day of their chosen program are also eligible to apply. The Wisconsin Scholarship is also open to graduate-level students. A minimum GPA of 3.0 is required.
APPLICATION PROCEDURE:
Students must submit an online application, complete a financial information form, submit 2 letters of recommendation, official transcripts, and an essay/personal statement discussing why they wish to participate in the program. Scholarships are awarded on a competitive basis.
The deadline to apply is Friday, May 20th, 2022.
HAVE A QUESTION?
Contact us at: mkarmilowicz@thekf.org or visit our website click here >>>

Founded in 1925, the Kosciuszko Foundation promotes closer ties between Poland and the United States through educational, scientific and cultural exchanges. It awards up to $1 million annually in fellowships and grants to graduate students, scholars, scientists, professionals, and artists, and promotes Polish culture in America. The Foundation has awarded scholarships and provided a forum to Poles who have changed history.
SPONSORED ARTICLE
For the most up-to-date information, please contact the company directly.
The photos contained in the article serve only as an illustration of the article.
Polish-American Organizations
15 East 65th Street
New York
, NY
tel:
Click phone# to call
and tell them you found their ad in Polish Pages
ARTICLES OF THIS COMPANY
Find an article
FIND A COMPANY
Add your business to our directory
Do you have a business?
Register an account
Add info for easy finding
Get new customers
ADD A COMPANY