We invite you for a book talk with dr Eva Hoffman Jedruch, on February 10th (Friday) from 12.30pm - 2pm via Zoom and in person in room 5203 at the Graduate Center, CUNY.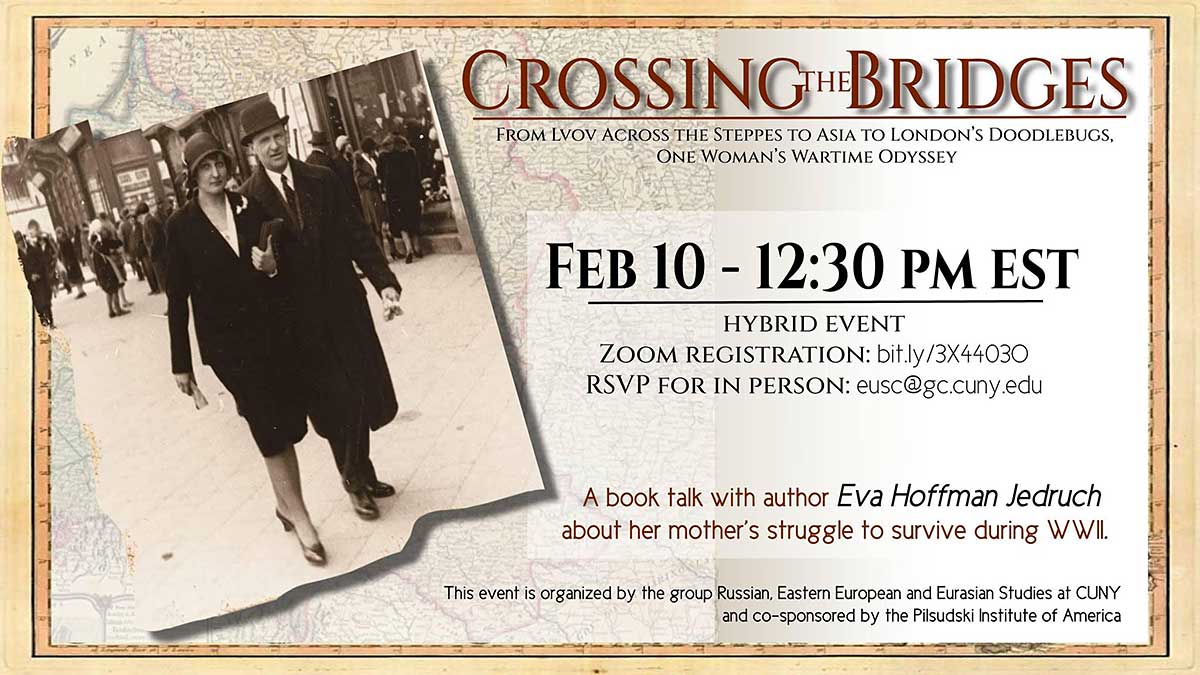 Register to attend virtually: https://gc-cuny-edu.zoom.us/.../tZwrdO2pqTsiH9yLUfSAnRB... 
or RSVP to attend in person to eusc@gc.cuny.edu.
The author will give a talk about her book: "Crossing the Bridges. Across the Steppes of Asia, to London's Doodlebugs. One Woman's Wartime Odyssey".
The book is a memoir based on one woman's story. Zofia Neuhoff's life spanned the most significant shifts in Europe's history of the twentieth century. Three great empires, Prussian, Russian, and Austrian, that ruled for centuries disintegrated into several independent states in mere five years of the First World War. Her life reflected these historical changes and became an inspiring tale of challenges, adaptations, and survival. Suddenly, as the world is being shaken by a new geopolitical upheaval, Zofia's story becomes relevant after eighty years. It is said that history repeats itself.
This talk is co-sponsored by the Pilsudski Institute of America.
VENUE
The Graduate Center, CUNY
365 Fifth Avenue, room 5203
New York, NY 10016
COVID-19/BUILDING ACCESS POLICY
CUNY attendees must show proof of vaccination by presenting a valid CUNY Access Pass through the CLEARED4 health validation platform upon entry. Non-CUNY visitors must show proof of vaccination or negative test. See the full Building Entry Policy for more information.
SPONSORED ARTICLE
For the most up-to-date information, please contact the company directly.
The photos contained in the article serve only as an illustration of the article.
Polish-American Organizations
138 Greenpoint Avenue
Brooklyn
, NY
tel:
Click phone# to call
and tell them you found their ad in Polish Pages
ARTICLES OF THIS COMPANY
Find an article
FIND A COMPANY
Add your business to our directory
Do you have a business?
Register an account
Add info for easy finding
Get new customers
ADD A COMPANY