The store is known for its wide selection of traditional Polish food products, including meats, cold cuts, bread, dairy products, sweets and more.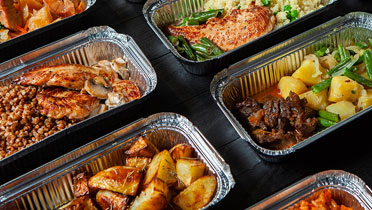 The store also offers a variety of ready meals.
Polish food products:
Fresh bread from Polish bakeries: Northside Bakery, Crumbs, Syrena
Fresh meats from Bacik (hams, bacon, sausages, sausages, pate, ribs, Berlinki frankfurters)
Dairy products (kefir, buttermilk, cream, cottage cheese, cheese, homogenized cheese, milk, butter)
Various types of herring (Cracovia, Lowell, Seko, Lisner)
Frozen food (large selection of dumplings, casseroles, soups, vegetables, fish, pancakes, noodles and dumplings)
A wide selection of canned meat and fish
Pasta, groats
Cucumbers (Lowell, Syrena, Bacik, Cracovia, Square, Polonaise, Vavel)
Cabbage (Lowell, Syrena, Bacik, Cracovia, Square, Polonaise, Vavel)
Sweets (Wedel, Złotokłos, Wawel, Solidarność, Goplana)
Fresh donuts "pączki" every day, including rose, blueberry, multifruit, raspberry, cheese, pudding, nutella and cakes from Polish bakeries.
Salty snacks (Lajkonik, Beskidzkie, Crunchips, Przysnacki, Łapsy)
Teas (fruit, herbal, green, black from Herbapol)
Coffee
A large selection of Polish herbs, cosmetics and chemicals
Cosmetics (Ziaja, Joanna, Soraya, Nivea, AA, Pani Walewska)
Cleaning products (Persil, Ludwik, Fairy, Lenor, Perwoll, Vizir, Pronto)
Dishes and delicacies for every Polish and American holiday
Dishes for every holiday, Christmas, Easter (like small hams, sausages, bacon and tenderloins and white raw sausage), Fat Thursday, New Year's Day, Women's Day, Valentine's Day, etc.
SPONSORED ARTICLE
For the most up-to-date information, please contact the company directly.
The photos contained in the article serve only as an illustration of the article.
Deli, Groceries I Catering
304 Ditmas Avenue
Brooklyn
, NY
tel:
Click phone# to call
and tell them you found their ad in Polish Pages
ARTICLES OF THIS COMPANY
Find an article
FIND A COMPANY
Add your business to our directory
Do you have a business?
Register an account
Add info for easy finding
Get new customers
ADD A COMPANY