Piast Institute will be offering the Polish language as second language classes for adults who want to converse in Polish with those in their circle, or are thinking of taking a trip to Poland in the future. Classes are offered online via ZOOM.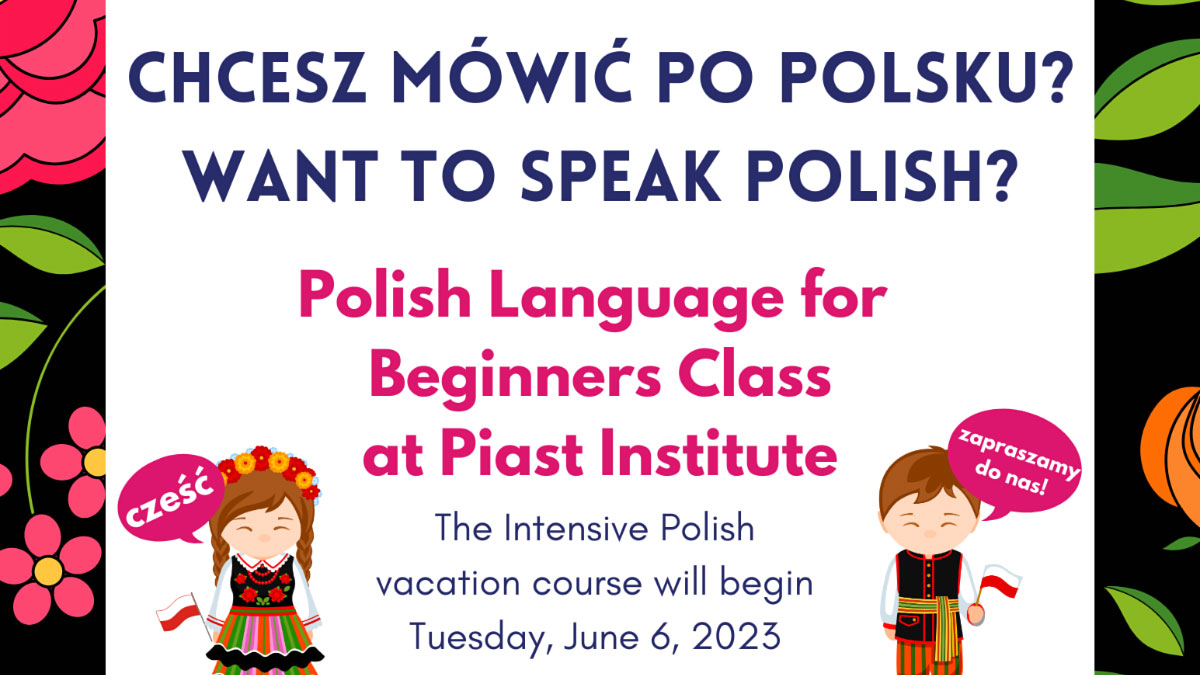 The instructor, Benita Wojciechowski of the Piast Institute, encourages individuals to join the new beginner's class, which will start up on Tuesday evenings, June 6, 2023, as an intensive Polish vacation course. This class may be, upon the students' request, extended into the fall.
If a person has some knowledge of Polish and would like to expand on their skills, please contact the instructor for information on the ongoing intermediate and advanced classes. Individuals are allowed to attend two classes the first week, so that the student and the instructor can decide which group fits the person's skills and needs the best. There is a possibility of taking a few individual classes, prior to joining the group, in order to catch up with the program.
The fee for the class is $25 for a 90-minute session, with a commitment for one session a week for the duration of the school year, paid monthly. A special offer is available to those who want to participate in more than one class per week – the second class fee is $10. All materials are provided with the class fees.
For registration and more information, please contact the instructor, Benita Wojciechowski, at wojciechowski@piastinstitute.org, or by phone at 586-354-8296 or fill out the Google form at https://tinyurl.com/PolishClasses
Mrs. Wojciechowski teaches at the Father Dabrowski Polish Language Center in Orchard Lake. She has 10 years of teaching experience both in Poland and the United States and has taught Polish and English to individuals and groups.
Polish classes for children and the youths from the Detroit Metro area are offered at four Polish schools. The schools in Hamtramck and Orchard Lake offer a special Early Start class for 2- to 4-year-old students.
St. John Paul II Polish Language School in Hamtramck
https://www.stflorianparish.org/polish-language-school/
Adam Mickiewicz School of Polish Language in Sterling Heights
szkolamickiewicza.org/
Polish Language Center of Ann Arbor
https://polskaszkola.weebly.com/
Father Dabrowski Polish Language Center in Orchard Lake. Their website is under construction but registration is available here:
Registration for Piast Institute Adult Polish Language Classes
SPONSORED ARTICLE
For the most up-to-date information, please contact the company directly.
The photos contained in the article serve only as an illustration of the article.
Polish-American Organizations
11633 Joseph Campau
Hamtramck
, MI
tel:
Click phone# to call
and tell them you found their ad in Polish Pages
Find an article
FIND A COMPANY
Add your business to our directory
Do you have a business?
Register an account
Add info for easy finding
Get new customers
ADD A COMPANY