Potato pancakes, also known as latkes, are a popular dish in many cultures, especially during Hanukkah.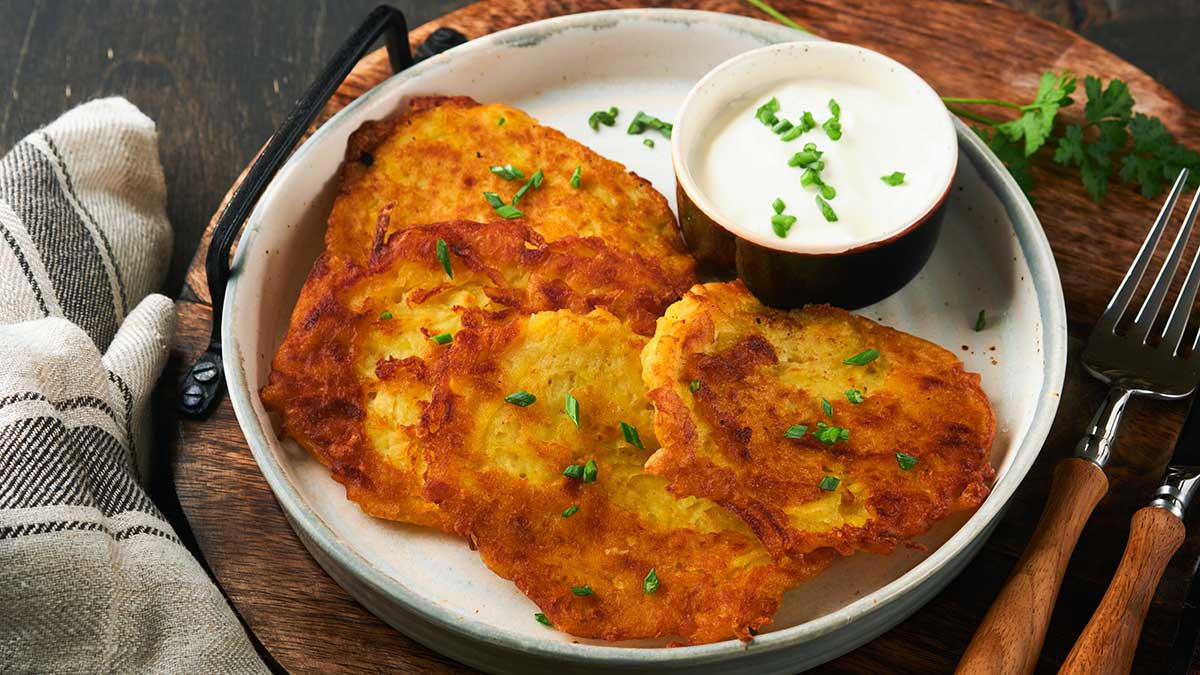 Here is a simple recipe for potato pancakes:
Ingredients:
2 large potatoes, peeled and grated
1 small onion, grated
2 eggs, lightly beaten
2 tbsp all-purpose flour
1 tsp salt
1/4 tsp black pepper
Vegetable oil for frying
Instructions:
Grate the potatoes and onion into a large mixing bowl. Using a clean kitchen towel or cheesecloth, squeeze out as much liquid from the potatoes and onions as possible.
Add the beaten eggs, flour, salt, and black pepper to the mixing bowl. Mix everything together until well combined.
In a large skillet or frying pan, heat about 1/4 inch of vegetable oil over medium-high heat.
Take about 1/4 cup of the potato mixture and flatten it into a pancake shape. Gently place the pancake into the hot oil and fry for about 2-3 minutes on each side, or until golden brown and crispy.
Use a slotted spoon to remove the pancakes from the oil and place them on a paper towel-lined plate to drain off any excess oil. Repeat with the remaining potato mixture.
Serve the potato pancakes hot, with sour cream, applesauce, or your favorite toppings. Enjoy!
Note: You can also add other ingredients to the potato mixture, such as chopped herbs, cheese, or grated carrots, to customize the flavor of your potato pancakes.
SPONSORED ARTICLE
For the most up-to-date information, please contact the company directly.
The photos contained in the article serve only as an illustration of the article.
Deli, Groceries
1825 A Hooper Avenue
Toms River
, NJ
tel:
Click phone# to call
and tell them you found their ad in Polish Pages
ARTICLES OF THIS COMPANY
Find an article
FIND A COMPANY
Add your business to our directory
Do you have a business?
Register an account
Add info for easy finding
Get new customers
ADD A COMPANY