We offer european style, delicious catering for any occasion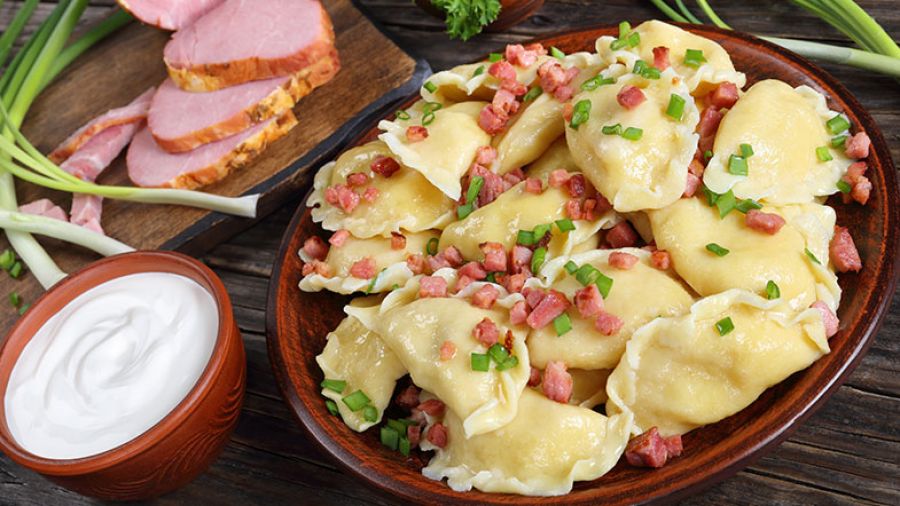 Pierogies
Fillings

Pierogi may be stuffed with mashed potatoes, fried onions, farmer cheese, cabbage, sauerkraut, meat, mushrooms, spinach, cheese, or other ingredients depending on the cook's preferences. Dessert versions of the dumpling can be stuffed with sweetened quark or with a fresh fruit filling such as cherry, strawberry, raspberry, blueberry, apple or plum; stoned prunes are sometimes used, as well as jam.

For more flavor, sour cream can be added to the dough mixture, and this tends to lighten the dough.
Preparation

The dough, which is made by mixing flour and warm water, sometimes with an egg, is rolled flat and then cut into squares with a knife or circles using a cup or drinking glass. The dough can be made with some mashed potato, creating a smoother texture.

Another variation, popular among Czechs and Slovaks, uses dough made of flour and curd with eggs, salt, and water.

The filling is placed in the middle and the dough folded over to form a half circle or rectangle or triangle if the dough is cut squarely. The seams are pressed together to seal the pierogi so that the filling will remain inside when it is cooked. The pierogi are simmered until they float, drained, and then sometimes fried or baked in butter before serving or fried as leftovers. They can be served with melted butter or sour cream, or garnished with small pieces of fried bacon, onions, and mushrooms.

Dessert varieties may be topped with apple sauce, jam, or varenye.
SPONSORED ARTICLE
For the most up-to-date information, please contact the company directly.
The photos contained in the article serve only as an illustration of the article.
Deli, Groceries
1825 A Hooper Avenue
Toms River
, NJ
tel:
Click phone# to call
and tell them you found their ad in Polish Pages
ARTICLES OF THIS COMPANY
Find an article
FIND A COMPANY
Add your business to our directory
Do you have a business?
Register an account
Add info for easy finding
Get new customers
ADD A COMPANY